My favorite thing about this yellow gingham boy's shirt was making it. Last Saturday, I still had to make the buttonholes and sew the buttons onto this shirt when I asked my grandson to try it on. FYI, he's fascinated with my sewing machine and likes to help me punch in the right numbers so I can show him the different stitches the machine makes.
After trying the shirt on, I explained the final steps I still needed to do before it would be done. He asked if he could press the foot peddle and make the machine sew. I agreed to his request. After he helped me make two buttonholes, I showed him how to sew the buttons onto his shirt. I sewed two and then he sewed two. Once we were done with those steps, he grabbed my cheek and planted two kisses onto it. The best part was the spontaneity of his reaction! Let me explain, he's at that stage where he usually wipes my kisses off as soon as they are offered... ever had a child do that to you? Afterwards, I realized that h
e was so so proud of himself, I had taught him a useful skill and he thought it was fun.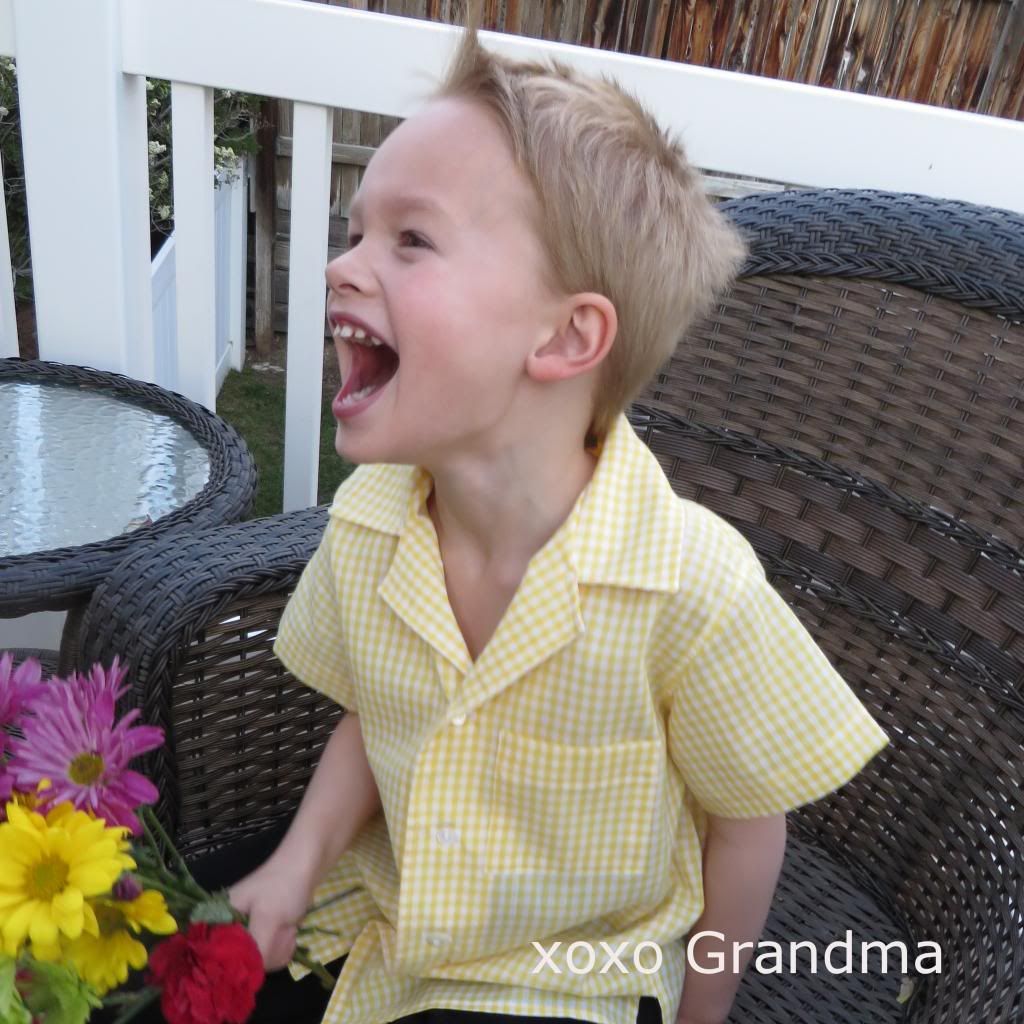 Last week, after a t-ball game, this same grandson was at my house for dinner with his other grandparents. He wanted to show them the shirt he helped me sew. When he tried it on, I asked him if he'd let me take photos of him in it. He agreed and we went outside to snap the photos. I thought it would be cute to have him hold some flowers and say, "I love you mom." because I had an idea for a card that we could make together and give to his mom on Mother's day. Instead he said, "I love you grandma!" Silly boy that he is, he thought this was hysterical, and laughed and laughed! Deep inside, my heart was so touched, I was smiling and laughing with him but really I wanted to cry. He left me on Sunday to go back to his home - far far away and I'm missing his whole family right now... actually, I'm missing all my family right now! It's a good thing you can't see me, because my eyes are pretty teary.
Yup, this shirt was definitely
worth making!
xoxo Grandma
Shared: 2 Croquet Hooks, Nap Time Creations, Threading My Way
Pattern: McCalls 2205 (The shirt seems a little baggy, I'd make the next one smaller...or maybe I just have skinny grandchildren.)