My oldest daughter is expecting her first baby in December. She's a fan of classic looks.
Several months ago, I saw a cotton dresser runner at a neighbor's garage sale and fell in love with the hand tatting around it's edges. When I asked the price, my neighbor said, "Oh, that old thing, you can have it." I tried to tell her the edge was made by hand, and promptly decided I should keep my mouth shut before she changed her mind. I love tatting and learned about it from my husband's family. His grandmother use to create tatting and taught two of her granddaughters how to do use a shuttle to create this beautiful lace.
Thus, the beginnings of this classic white shirt for my next granddaughter. I'm hoping it's the perfect size for her when summer rolls around. I cut the fabric out so that each edge had lace on it. One evening, I sewed the shirt together and in the light of day, I discovered a few small pin holes in the upper portion of the bodice. I set it aside, kind of annoyed with myself for not seeing those pin holes earlier. Last week, I found a white cotton handkerchief that had pretty handwork, so I cut around the design and hand sewed this over those pin holes. The fabric of this shirt is so soft. I just love how a good cotton feels. I also love that I figured out how to finish this top with just the right amount of detail, and I'm hoping my daughter will love it on her little girl.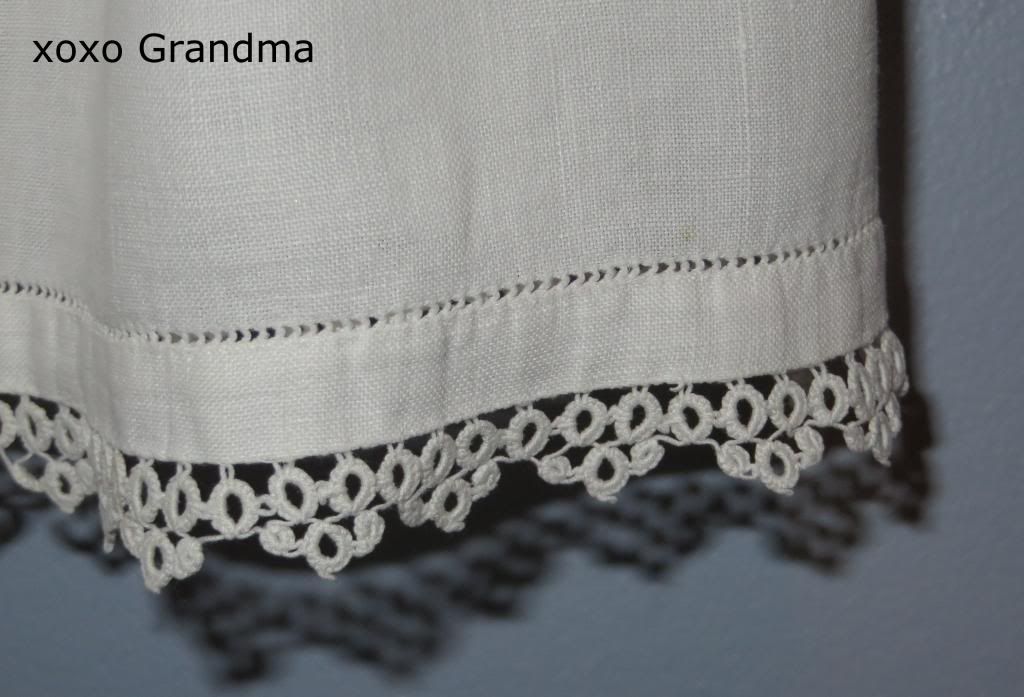 The most practical part about a classic white cotton shirt - you can bleach out all the babies messes! For more project ideas go to
this post
.
Happy sewing!
xoxo Grandma