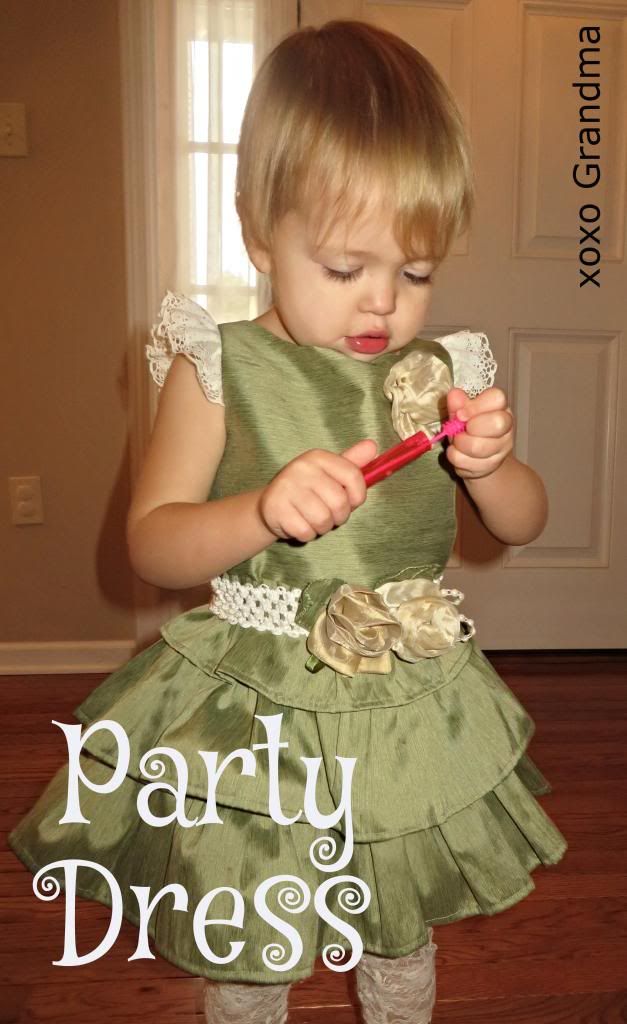 Chances are you've had a holiday party to gear up for. My family has a few in the works, and I thought I'd create something festive for my granddaughter to wear. Here she is dressed in a moss green party dress I created using the Spring Fever free pattern from Me Sew Crazy. I changed the pattern slightly by adding lace cap sleeves, two layers of lace around the back bodice and a hand sewn flower onto the front bodice out of a beige chiffon drapery sample that a friend gave to me. (I actually originally made these flowers as decorations for my oldest daughter's wedding reception...so fun to find another use for them.)
Lastly, I made her the cutest headband. But of course this busy girl would not leave it on her head. She just did not appreciate all the time I put into making this accessory! She's got the tiniest waist and so I tried it as a belt and she quite liked it in that spot. She kept telling me "pretty." The ivory belt-headband has two chiffon flowers formed out of different shades of beige chiffon, some pearl ribbon that I refashioned by pulling off of a darling greeting card someone made and & sent to our home and a few leaves which were made out of the same moss fabric. The dress fabric was a super large drapery sample given to me by another friend. I'm telling you, if people would stop giving me their hand-me-downs, I'd get my sewing closet cleaned out!
Secretly, I love that people think of me and share! That's what this season is about - sharing and giving. So thank you to all of you for reading this post. I hope you get to dress-up and party this Christmas season.