When my newest granddaughter was born a few months ago her mother requested I make a white blessing dress for her special day at church. Below is a photo she e-mailed me of the "look" she wanted - layers and layers of ruffles:
With that photo as inspiration, I searched my stash for the perfect white fabric. I found two soft, white pillowcases in my linen closet that I no longer used. So, I cut one of the pillowcases down to 20 inches. This is how I cut the skirt for this dress below:
I didn't have any eyelet in my stash, so
I had to purchase four yards of 3 3 /4" wide white eyelet. From the second pillowcase, I cut out eight, 4" stripes. With those stripes, I sewed two together to make 4 - 4" wide circles.
Then I finished the hem of those stripes, ruffled them and added seam tape to finish off the seams as shown below.
For the bodice, I used this 1979 christening dress pattern although any baby bodice pattern would work for this project: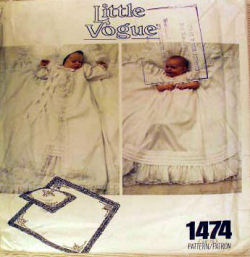 I cut the bodice out of the fabric cut from the top of the pillowcase to form the skirt.
From the remaining eyelet, I formed cap sleeves, because this little baby lives where it is hot and humid and I wanted to keep the dress cooler for her.
Doesn't she looked like an angel in her layers of white ruffles? One of the most angelic things about her is that she actually sleeps like a newborn should... all the time!
I'm so grateful this blessing dress fit her so well, and so grateful my husband and I could join her on her special blessing day!
- xoxo Grandma