Have you ever inherited something that you don't want? Well, I inherited this 50 plus year old silk bathrobe from my mother-in-law when she passed away. It's been hanging in my closet for over 10 years and I've never worn it. I just couldn't throw it away though because my father-in-law had it custom-made while on one of his business trips to Asia. This silk was beautiful, but I knew I'd never wear it since it was so dated. It reminded me more of a costume than a bathrobe.
I eventually ended up refashioning it into a Japanese kimono for the doll you see in the above photo.
At first, I had decided to use the silk and make myself a jacket but when I started to take the bathrobe apart, I found stains and small holes in the silk. My sister-in-law, Sue, was visiting me when I started this project and we both agreed that the silk was possibly deteriorating. We also discovered that whoever originally made this had cut out half the fabric's design running one way and half with the design running the complete opposite way. My visions of a beautiful jacket went out the window.
Brainstorming, Sue and I decided that this fabric would make a cute doll kimono or two. So, I gave the top half of the bathrobe to Sue for her doll and I kept the skirt for mine.
It was tricky cutting around the deteriorated parts of the fabric but look how fun this Japanese style kimono turned out.
I made every coordinating component from McCall's M6670:
The hair piece, cummerbund, white scarf, black velvet sandals and white socks. Since the pattern is no longer available, I've recreated my own version of this pattern for sale HERE.
This outfit was a time consuming labor of love. I'm planning on giving it to my daughter for her baby girl who is living in Japan for three years while her father works there. When she comes back to the states, give it a few years and she'll be ready for a special doll and some fun doll clothes.
This was the first time I've ever sewn on silk. With the right fine needle, it sewed up so easily. So from one old bathrobe, we got two kimonos, plus I used part to make an infinity scarf for myself. I'll be wearing it soon since the weather has turned a bit nippy here.
I started a tradition with my granddaughters to give them an inexpensive baby doll on their first birthday. When they turn two, I give them doll clothes and a baby quilt for their dolls (see THIS post). At what age do you think it's appropriate to give a child a special doll like an American Girl doll? Would love to hear what you think!
xoxo Grandma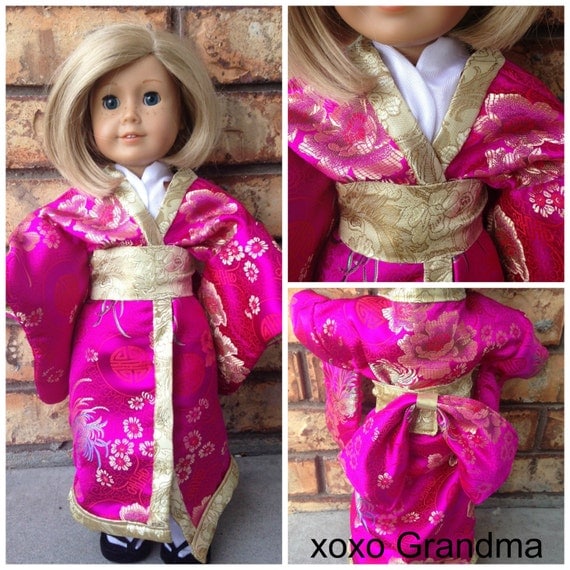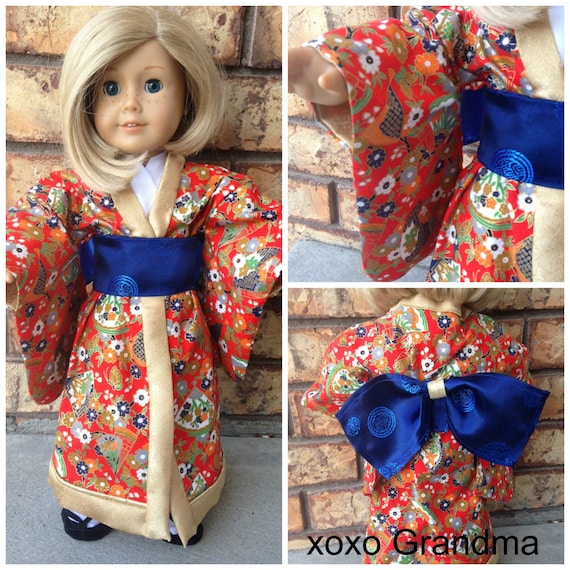 Pattern $3.50 instant download on ETSY