Before leaving to fly to my daughter's home for Thanksgiving, I had one more project I convinced myself I had to tackle. A while back I made cute, green skirts for my granddaughters, and I wanted my grandson's to have ties that coordinated with those skirts. So, Monday night I set to work cutting the ties out of the same green fabric I used to make the skirts. After cutting them out, I decided the fabric would not work-- it was just too thin to make nice ties (as a side note, my husband would tell you that there aren't any fabrics that make nice ties because ties are not nice to wear. But that's a man's perspective. I happen to think ties look so cute on little boys when they are all dressed-up.). The next morning, before I left for work, I found some new, thicker fabric that had just the right tiny print. So, I set to work once again to cut out the ties. Suddenly I had the brilliant idea (or so I thought) to use the green fabric I had cut out the night before to line the ties. Surely, this would save me time, right? What a mistake!
Last night, I sewed up the first tie, ironed it and realized that the green is absolutely terrible as a lining for a red tie. The green shows through just enough on the other side that it makes the red look... BLAH! I started thinking about the color wheel and realized red and green are contrasting colors which make them look great next to each other, but definitely not on top of one another as a lining!
See what I mean (though the photo really doesn't do it justice):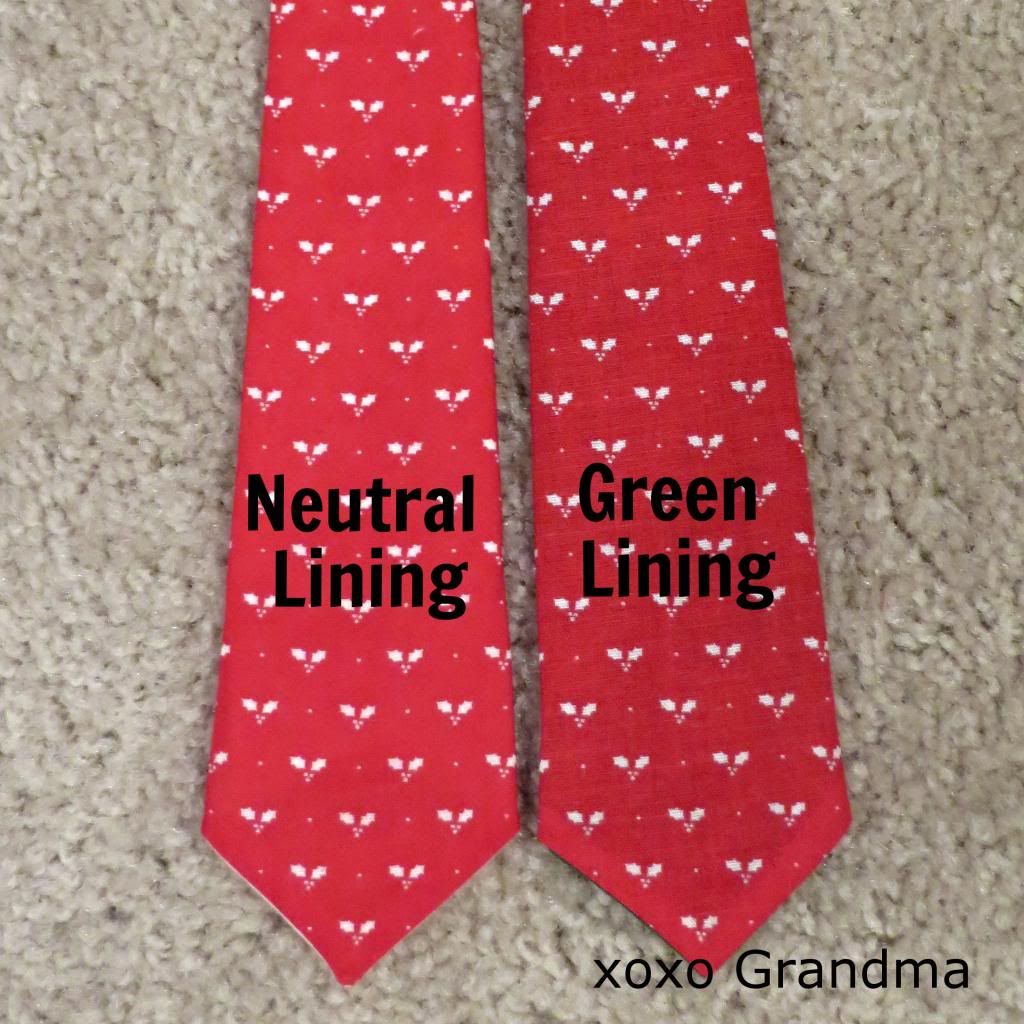 So, what's a girl to do? My short cut didn't work, so I had to take the route I should have taken in the first place. Repenting of my ways, I sewed the second tie with an off-white fabric instead. And look how much better it looks!
A little annoyed at myself, I pulled out the seam ripper and took that first tie apart to remove the green lining, and re-sewed it. Now I think these will look quite dapper on my grandsons (despite what my husband thinks). I'll take photos of the children wearing them once I get to my final destination in Tennessee. So, check back if you'd like to see the final results as I madly sew for my posterity.
What are you doing to celebrate Thanksgiving? Whatever you do, enjoy it!
xoxo Grandma