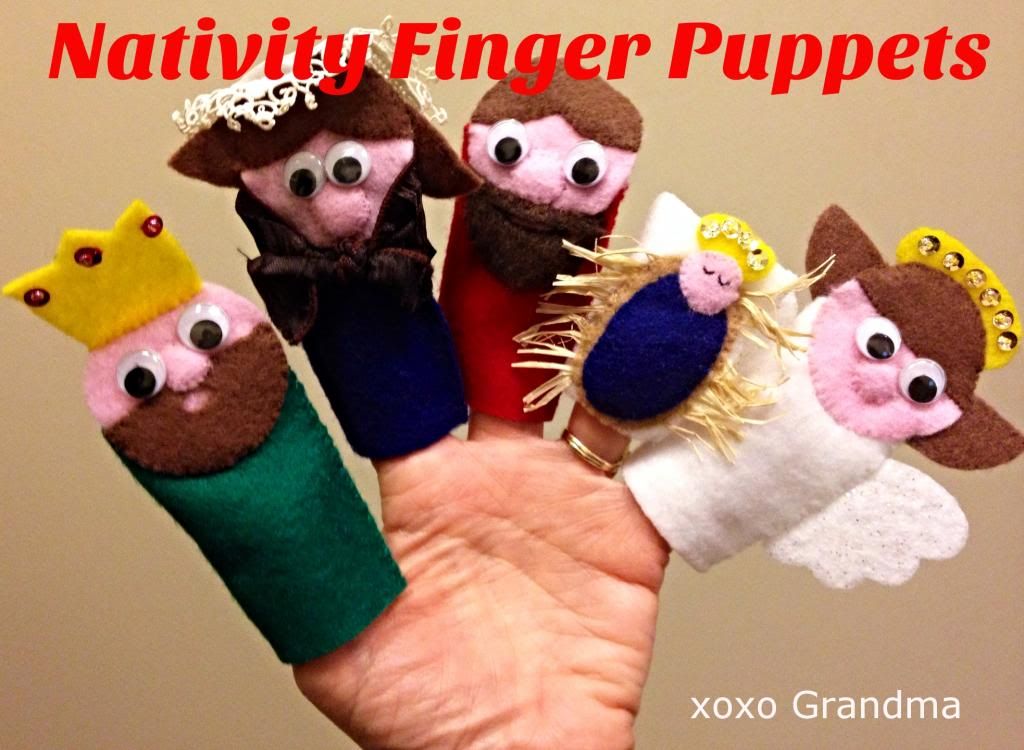 I few years ago, I created these nativity finger puppets for my grandchildren. Since they take a little while to create, I thought this was a perfect time to share this project with you. I bet you're wishing that I would make a set for your little ones too! Sorry, not going to happen but I will provide you with a pattern so you can make them instead. This free pattern is my 2014 early, early Christmas gift to all my readers as my way of thanking you for your support and encouraging comments. Make sure you print this full size by making sure the "fit to paper" is not checked.
To create your finger puppets, start by cutting out the pieces from felt. Joseph's hair is 1/2 the head, with a triangle cut from the center straight edge. Cut from brown felt. Next, assemble your pieces by sewing (using 1/8" seam) or glue the bodies together. I will show you how to put this project together using glue.
Next, hand stitch the details like wobbly "sew on" 7/8" eyes, sequins and the raffia (hay) under baby Jesus' bed. Here's a little t
ip to make your finger puppets dimensional: I added a tiny bit of batting under the noses.
Please look at the photo for the details.
I enjoyed this message about Christmas time and thought I would share it with you:
"C

reate a spirit of love that will "fill our homes and our lives and linger there long after the tree is down and the lights are put away for another year."
"
Let it be a time that lights the eyes of children and puts laughter on their lips," he said. "Let it be a time for lifting the lives of those who live in loneliness. Let it be a time for calling our families together, for feeling a closeness to those who are near to us and a closeness also to those who are absent. "Let it be a time of prayers for peace, for the preservation of free principles, and for the protection of those who are far from us. Let it be a time of forgetting self and finding time for others. Let it be a time for discarding the meaningless and for stressing the true values. Let it be a time of peace because we have found peace in His teachings.
"Most of all, let it be a time to remember the birth of our Savior, Jesus Christ, that we may share in the song of the angels, the gladness of the shepherds and the worship of the Wise Men." Thomas S. Monson
Have fun creating these finger puppets for your little ones. May they be a reminder of the real reason for Christmas! xoxo Grandma
Etsy Shop: xoxo Grandma
Linked to: Threading My Way, Nap-Time Creations