So excited to show you what I've put together for
Project Run and Play Season 7 Remix Challenge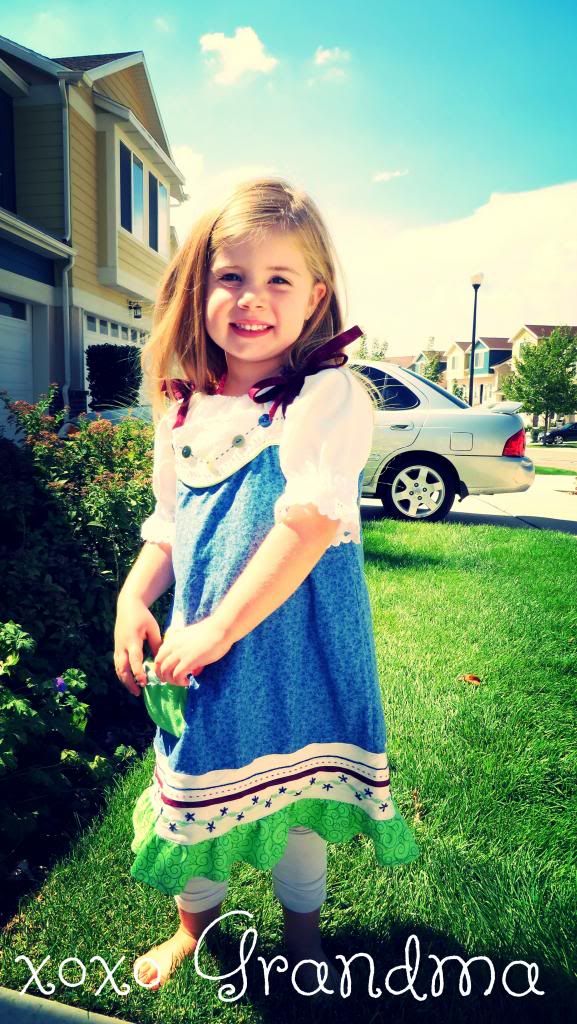 I started with this Pattern: Oliver and S Popover Sundress
This may sound odd but my inspiration for this outfit's design came from the waistband I used in this upcycled project. I unpicked it and decided it was just too pretty to throw away. Let me explain; the waistband had ribbon and one row of a running stitch already embroidered onto it - thank you Banana Republic for finishing your pants with a touch of wonderful.
Yup, my depression era mama would be so proud with how I've learned to UPCYCLE! I purchased the blue floral print and one skein of floss - all the rest of the supplies were upcycled. Total cost for this outfit = $5.50
I added a layer of green machine embroidery (you know that stitch on your sewing machine that you've always wondered what to use it for) and then more hand embroidered details to create this unique contrasting border. The final layer was a green 2" ruffle.
Then I softened the yolk turning it into a curved design, added maroon piping, more hand embroidery and a few random buttons.
I also added a ruffled embellished pocket that Mr. Owl fits perfectly inside.
I think every little child needs a play thing in their pockets.
Here's where you'll find the FREE Pattern to Mr. Owl.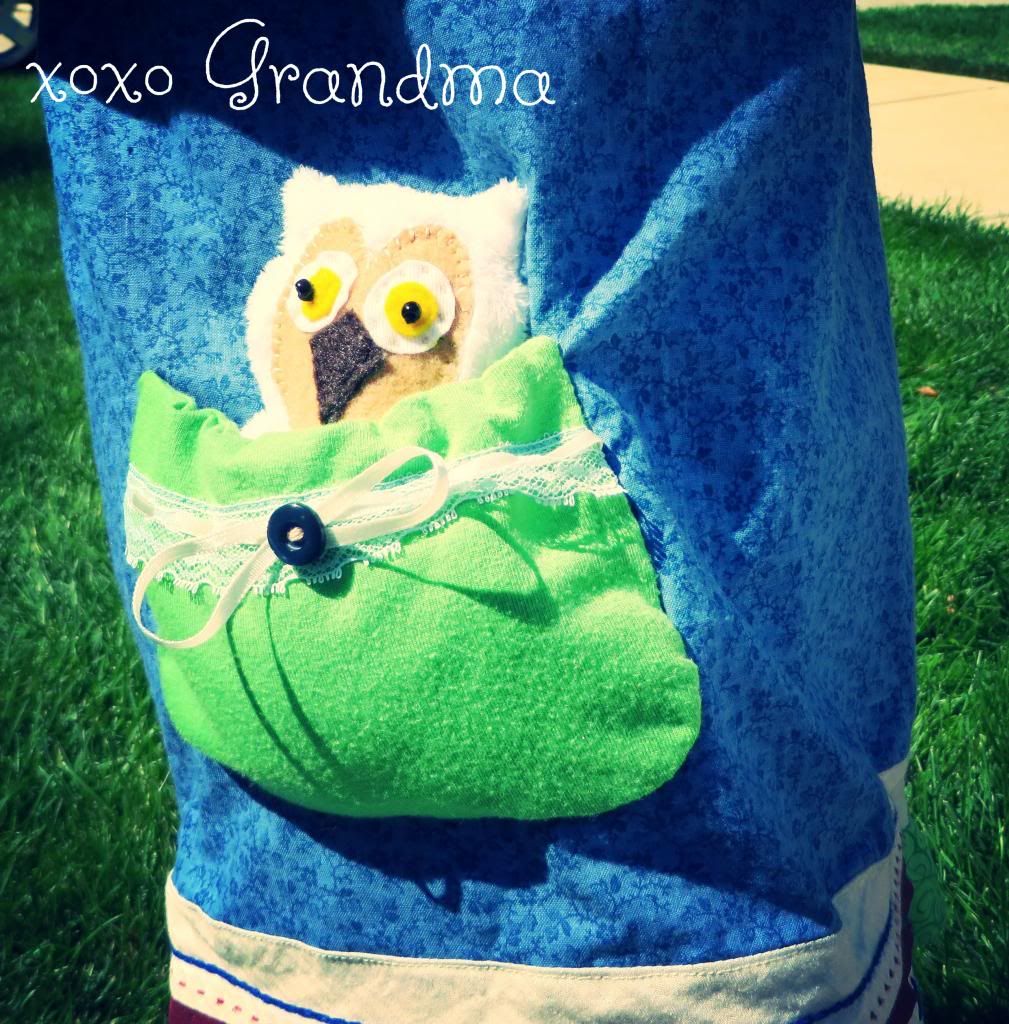 Next, I wanted a shirt to wear under the tunic but why buy fabric when you have a
Battenburg lace pillowcase
that has soft cotton and beautiful edge work and isn't being used in your home decor? Here's the fabric I used for the peasant blouse:
It was tricky cutting the blouse out but I love how it completed my
Fall Popover Remix
outfit.
Here's the shirt without the tunic on top of it...a perfect longer top to wear with anything.
Next step was to reproduce the outfit for an 18" doll. My daughter's Samantha (a retired American Girl doll) was the perfect size & luckily it was literally collecting dust for who knows how many years on her dresser.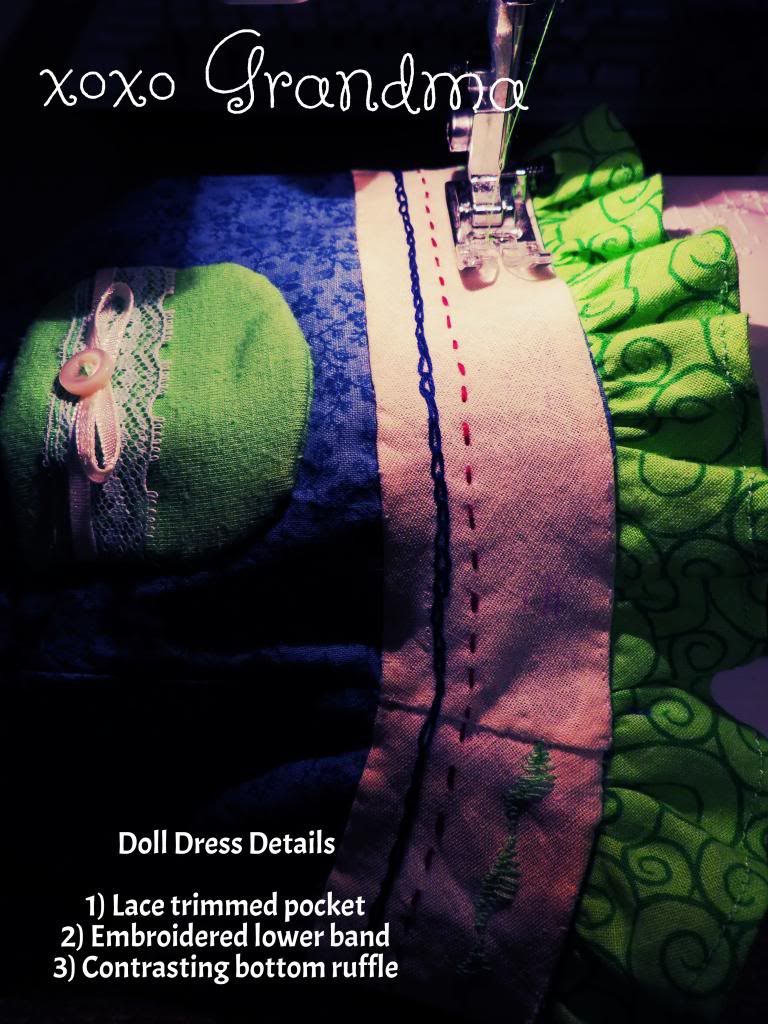 Tada - Samantha in her new outfit - the link to this free pattern is found HERE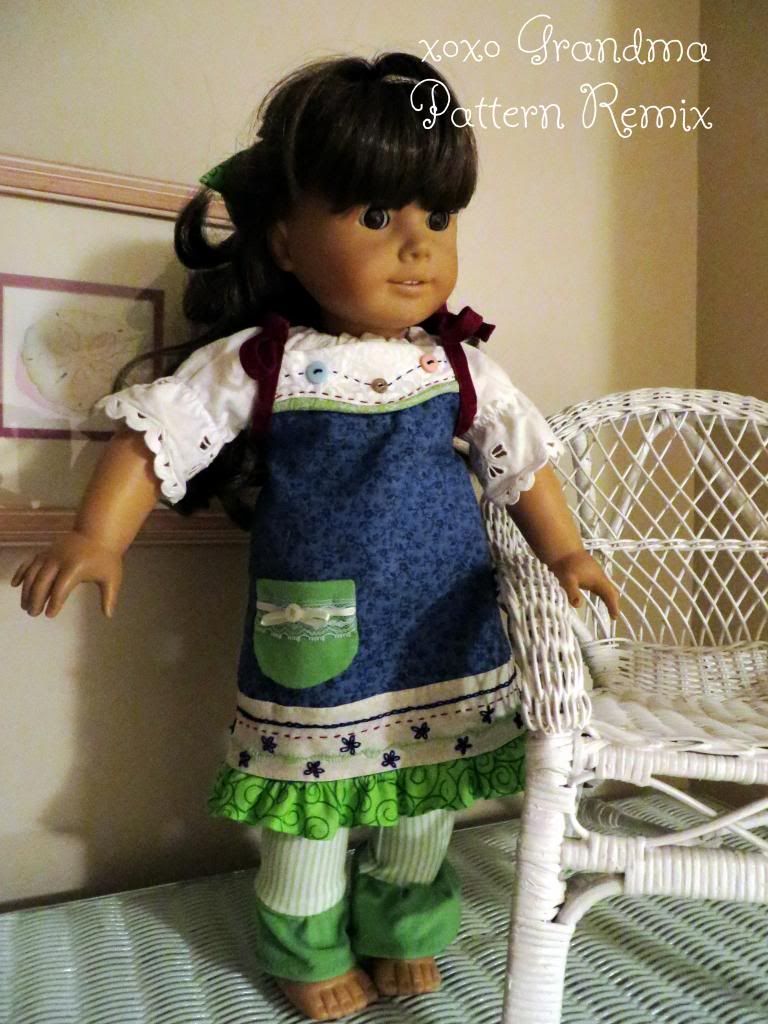 *A huge thank you to the mom of one of the adorable children that I use to teach for letting her daughter model this outfit & letting me photograph her in it.

Happy sewing! xoxo Grandma
See The Dedicated House for more things to make out of blue.